I find it incredible how quickly babies develop. With every single day that passes, Baby L seems to be getting cleverer, stronger and more kid-like. Prior to six-months old, she was a newborn in my eyes, yet once she passed that milestone there's been no stopping her.
Now, at just over nine-months old, she's developed her own little personality, is sleeping well, crawls in her own special way, has taken her first few tentative steps with a walker and has developed an appetite for food only ever seen before in The DADventurer household when the missus was pregnant.
When it comes to weaning, we've not really had any expectations or a set method. For us, it's all about getting her used to different foods, making it fun (or as fun as it can be when you've picked a smushed banana off the floor for the 12th time) and normalising the whole process. As a result, she's been fed using a spoon, sucked food out of pouches and learnt how to feed herself – the latter has helped massively with developing her hand-eye coordination and pinching, grabbing and gripping skills, which is pretty incredible to watch.
Being big fans of Ella's Kitchen already, we were excited to be sent a box of goodies from them, which included their new range of baby finger foods, as well as a couple of toys and a leaflet with useful tips on how to help your baby self-feed.
These 100% organic snacks included the 'Grab Me' Melty Puffs, 'Grip Me' Baby Biscuits and 'Pick Me' Melty Hoops, all designed to not only be tasty and full of goodness, but to also help develop the skills of your little one.
Baby L has been eating these snacks for the past few weeks now and appears to love them. Just as quickly as they are put on the table, they've been picked up and placed in her mouth – that's if she's not in a 'throw food on the floor' kind of mood. Below you'll find my review of the new Ella's Kitchen finger foods range:
Perfect for little ones learning to pick up food, the organic ingredients are melty on the tongue and come in two yummy tastes (Strawberries + Bananas and Tomatoes + Leeks).
The Melty Puffs are an organic puffed maize snack – to put that in other words, they are basically giant Wotsits, just minus the cheesiness. Baby L really likes the Melty Puffs, as demonstrated by the fact that she will often hold one in either hand. They are a great size for little hands (bigger than I expected) and appear to be pretty easy to eat as they break down quickly once mixed with baby spit (yum!). This is great because it means that your little one doesn't need teeth and can still eat them with a bit of gumming.
The puffs come in their own crisp like packet which makes them handy for taking with you if your sprog (or you) need a snack – even when the pack had been open for a few weeks, the puffs hadn't softened and were still as tasty for Baby L. Putting the crisps through 'The DADventurer taste test', I liked the tomatoes and leeks, but was really confused by the strawberries and bananas – eating a giant Wotsit which tastes like fruit was very odd, but then I guess I'm not the target audience!
The Melty Puffs are aged for babies of 7 months+ and cost £0.69 for a 20g packet.
Great to 'gum' food, the texture of baby biscuits means they're firm enough to grip, but still melt once little ones taste them. The biscuits come in handy single wrappers to reduce wastage and keep them fresh.
Baby L loves a good biscotti biscuit and has been eating them since she started weaning. She'd not tried the Ella's Kitchen version before though, so I was interested so see how she'd get on with a different flavour – apples and ginger, in this case. The answer? She bloody loves them too! The biscuits come in a box of 12 and are all individually wrapped, which is designed to keep them fresh and makes them really handy to take out with you as a snack.
Although they are aimed at sprog's older than Baby L, she's had no issue whatsoever in holding and eating them which just goes to show how clever and talented she is! The biscuits are solid enough to be picked up, but actually break up pretty easily when gummed and chewed which is good – I would suggest a bib, or delayering though, as the soggy, chewed up biscuit does form a bit of a paste on clothing. The biscuits also pass 'The DADventurer taste test' as the apple and ginger tastes pretty good in biscuit form, although I'm yet to dip them into my coffee.
The baby biscuits are aimed at babies who are 10 months+ and cost £1.99 for a box of 12.
Made for little fingers and thumbs, melty hoops (Cheese + Tomatoes and Vanilla + Bananas) are perfect for playing rolling and stacking. The re-sealable tub is ideal for changing bags and cup holders on your buggy or in your car – perfect for on-the-go finger food fun.
Like the Melty Puffs, the Melty Hoops are maize-based, crisp-like snacks which come in two different flavours. As you can see from the above Instagram clip, Baby L is also a huge fan of these (are you noticing a trend?!) and has expertly mastered the art of picking them up despite their small size and the recommended age being 10 months+. This has included picking them up with her forefinger and thumb, as well as poking her finger through the hole in order to move them to her mouth.
The Melty Hoops come in a handy resealable tub, which is great for when you're out and about. In terms of 'The DADventurer taste test', the cheese and tomatoes flavour is nice, but vanilla and bananas is a bit odd in crisp format, although I am well aware that I'm not the target audience, even though technically I am 10 months+ in age…
The tub cost £1.49 and is jam-packed with the Melty Hoops..
Summary
Baby L loves the new range of Ella's Kitchen snacks and has happily devoured what has been put in front of her fat, little face. She's had no issues whatsoever with the finger food, so if she's happy, then we're happy. In fact, we're probably more than happy because we know that the snacks are organic, have no nasties, are healthy and are helping with her development needs. All I have is glowing words to say about the range – and Ella's Kitchen as a whole – so we'll definitely be buying more in the near future.
The DADventurer Star Rating
5 out of 5 stars
Post shared on the following linky: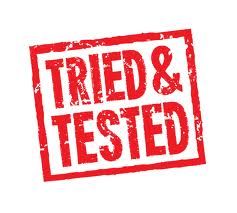 N.B. This review was written by me (Dave) and represents my honest opinion of the products. The baby finger food range were sent to me by Ella's Kitchen with the purpose of writing an honest product review in exchange for the products.
[jetpack_subscription_form subscribe_text="Like what you've read? Want more? Pop in your email to get all of the latest posts."]