With a week until Christmas, winter is officially here. The heating blares most mornings and evenings. The lack of sunlight is depressing. The car needs scraping before work.
Rather than hibernate until Spring like some of our more sensible mammal brothers, life must go go. We need to go to the shops. The dog requires his daily walk. The little one needs to go to her baby classes. Anything which can help us get through the depressing cold and dark days and make our daily routines easier is a must.
That's why we were delighted to be sent a couple of wintry items to test and review from baby accessory specialists Hippychick. This included a baby footmuff to keep the little one toasty as well as a pair of Buggi Lights to attach to the pushchair to help with visibility and safety on those dusky strolls. Below is my review of both of these items:
Product Description
The products are described as:
Buggi Lights are a fun, simple way to make your baby's buggy visible and safe after dusk or on a wintry afternoon. Put them on and feel confident that cars will see you when you cross the road. Each box contains two Buggi Lights. One has white LEDs to face forwards, the other has red LEDs to face backwards – just like a car. The lights are bright and are extremely easy to turn on, just press on the ladybird's back to take it through the three flash settings. As well as being a safety device they have the added advantage of looking fun. Your kids will love having them on their buggies and they are suitable as scooter lights or bike lights for children over the age of three. Batteries are included and last roughly 150 hours if the lights are left on continuously. If switched off between uses they will last much longer. Each light takes two round CR2032 batteries. Replacements can easily be bought in high street shops and supermarkets. Specifications:
Silver medal award winner for Best Pushchair/Buggy Accessory in the 2014 Loved By Parents Awards and Grannynet Gold winner.
Fun ladybird design.
Designed in the UK and fully tested to European Safety Standards (EN71 parts 1,2 and 3).
Simple and easy to use.
Hard wearing with a stretchy silicone rubber strap which fits from very thin bars to very thick ones.
Two lights in each pack. One with white LEDs to face forwards and one with Red LEDs to face backwards.
Three flash modes. Fast flash. Slow flash. Continuous on.
The Hippychick Footmuff includes two cover options a Spring/Autumn cover with a light padding and a winter cover with extra deep padding to keep your child snug on the coldest of days. The perfect winter outdoor kit! Made from the same sturdy practical fabric as our kids waterproofs, the footmuffs are breathable and machine washable. Hippychick Footmuffs are available in 4 striking colourways and two sizes. Specifications:
2 cover options
Made from waterproof material, breathable, machine washable
Zip off covers so you can control your child's temperature.
Ultra soft polar fleece lining.
Reflective piping to help keep your child seen, and safe, on dark winter evenings.
Handy clip for dummy or favourite toy.
Pocket with fleece lining to keep little hands warm.
Fits most 3 and 5 point harnesses.
Cover folds down and secures with poppers for warmer days.
Drawstring hood
Product Experience
Let's start with the Buggi Lights. Despite all of the baby related paraphernalia on the market, I'd not heard of lights that attach to your little one's pram before. It makes total sense when you think about it though. Cars have lights, bikes have lights, even some runners wear lights. The whole point of this is for visibility and safety. You wouldn't drive, bike or run down the road if it was pitch black, so why would you contemplate pushing your little bundle of joy when you can't see anything? I really liked the concept and was hopeful that it would be a decent product. I wasn't disappointed.
On opening the box, I was struck with how the Buggi Lights reminded me of the hostile alien creatures from the Alien film franchise rather than a ladybird. However, I guess Buggi Lights is a more kid friendly concept than Alien Lights! The lights were made of a stretchy, silicone like material which felt pretty hard wearing – in a way, it feels like the thick rubber material you get on swimming goggles.
Turning the lights on was very simple. You just have to press down on the top of the light and it will turn it on. There are three different settings which are each activated by pressing the top of the light. The first one is a fast flash which mimics an early 1990's rave, the second is a slower flash which is less epilepsy inducing, whilst the third is a continual light. This is the same for both lights – the only difference is that one is white and therefore front facing, whilst the other was rear facing and red in colour. Both lights used very powerful LEDs – whatever you do, don't make the same mistake as me and look directly into them!
Attaching the Buggi Lights to the pram was also really simple. The silicone allows you to stretch them around any part of your pram or pushchair, so it is great that they will fit onto anything. Whilst testing, I attached the lights to various parts of the travel system including the chassis, the handlebars, the carrycot and the car seat. Each time the lights went on without any hassle as you simply stretch the silicone around and hook onto the plastic clip beneath the LEDs. This means that you can install and turn on both lights within seconds, which is fantastic when you're trying to quickly leave the house.
The Buggi Lights come in a variety of different colours – we received the purple ones in order to coordinate with our pushchair because we're geeks like that, however there is also the option of blue, pink, red and yellow. We have been using the Buggi Lights each evening when we've taken the dog out for a walk along with the little one. They are really bright and definitely light up the pushchair to provide some added reassurances when you're out when it is dark. Just like lights have become standard practice on a bike, I see no reason why lights on pushchairs can't too.
The next product we received for testing was the Hippychick Baby Footmuff. The missus has been eyeing up one of these for a while, so I managed to score some valuable husband points for getting one of these! If I'm honest, I didn't really see the benefit of having one as I thought a blanket would just do the same thing. However, having used it whenever we go out with the little tyke, I think this is a pretty awesome product. If only they did an adult-sized version!
The Baby Footmuff comes with two cover options which can be attached and removed from the back section via two zips. Both covers are fleece lined, with one being thicker than the other, meaning that one can be used during the winter months and the other during slightly warmer times, although I'd imagine it is a bit too thick for summer. The outside is "Teflon coated performance polyester" which is waterproof and breathable. It also is edged with silver piping, which makes it reflective when light strikes it. Other features include a drawstring hood, a pocket, a clip and holes in the back which means it can fit most three or five point car seat harnesses.
So how did the Footmuff work in practice. Well, the first thing to test was changing one cover option with the other. I struggled a bit with this if I'm honest. There are two separate zippers on the back section of the Footmuff and the idea is that you line these up with the zips on the cover, then quickly and easily zip it up. I couldn't quite get this to work which was a bit annoying – when I attempted to pull the zip up, it did that annoying thing where the zip moves but the teeth do not intertwine. I had a couple of goes at this before I passed it to the missus, who zipped it up straight away on the first attempt. Maybe I just can't work zips correctly! I have since figured out how to do it properly now.
We tried the Footmuff in both the carrycot and the car seat. In the carrycot, we pulled down the zip, put Baby L in it, then zipped it up to create a cosy cocoon.  She seemed more than happy in there, despite the cold temperatures, and even nodded off as we took the dog for a walk around the block. The Footmuff seems to be designed for car seats though and this is where we have mainly used it. It is a simple process of pulling the arm straps and leg buckle through the relevant holes in the back, popping in the little one, securing her with the harness as normal and then zipping her up in the Footmuff.
It does get quite warm in the footmuff, which is obviously a good thing, but you just need to keep an eye on what the little one is wearing and the environment you are in. If the baby is layered up and in the car with the heating on, then there is a massive chance that you will have a sweat soaked baby when you get her out of the car seat. So just bear this in mind when using the Footmuff.
The Hippychick Baby Footmuff is a great product and something we have been using daily in the little one's car seat. It really is a very warm place to be and beats the hassle of trying to keep the little one cosy when she's trying to kick off blankets. In addition to the black one we have, you can get them in red, blue or brown covers with the tan fleeced lining.
Cost
The Buggi Lights cost £14.99 and are available from the Hippychick website. Having Googled "lights for pushchairs", I've seen that other products are available on the market and these seem to be pretty similarly priced and of a similar specification. Obviously you can't put a price on safety, particularly when it comes to your bundle of joy, so even a higher price would be worth it in my opinion. For the same price as a new DVD, the Buggi Lights provide reassurance for any newbie parent.
The Baby Footmuff is priced at £65.00 and can be purchased via the Hippychick website. Again, plenty of other similar products are on the market which seem to range from £20 up to £100, so the Hippychick Baby Footmuff appears to be competitively priced. With my tight Northerner cap on, £65 feels quite a lot of money for effectively a zip up blanket, but I've realised that you actually get a lot more than this. If you use the Footmuff every day until the baby reaches one year old, then you're paying pennies per day for a really high quality item which ensures that the little one will never go cold.
Summary
Both the Buggi Lights and Baby Footmuff are great additions to your baby product travel repertoire. Neither of them are life changing and the truth is that you can do without them, but they definitely make life easier and safer which is a huge help as a parent. The Buggi Lights do exactly what you'd expect of clip on lights – they are bright, easy to fit and quick to turn on. The ladybird design isn't totally to my liking, but that's me being a bit finicky really – take off the black ladybird dots and I'd probably be a bit more aesthetically pleased.
The Baby Footmuff is a great product and again doesn't disappoint – it is good quality, has the option of being used all year round with the two covers and, most importantly, keeps the little one really snug and warm. My only slight criticism is that the zips are a bit faffy and can be frustrating if you can't line them up properly. I'm sure there is a reason why it has been designed with two separate zips, but the designer in me would probably have thought one all around zip would have sufficed.
DADventurer Star Rating
Hippychick Baby Footmuff – 4.5 out of 5
Buggi Lights – 4.5 out of 5
Post included on the following linky: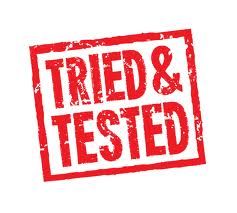 N.B. This review was written by me (Dave) and represents my honest opinion of the products. The Buggi Lights and Baby Footmuff were sent to me by Hippychick with the purpose of writing an honest product review in exchange for the products.
[jetpack_subscription_form subscribe_text="Like what you've read? Then join The DADventurer mailing list to ensure that you never miss a post. Just pop in your email address and you'll get all the latest musings directly to your inbox."]