Weaning can be a bit of a minefield. There are so many different schools of thought and products available that the newbie parent can feel a little overwhelmed.
After going to a really useful talk on weaning, we decided that we wanted to try baby led weaning – i.e. give bits of different food for them to play with and pick at – but we weren't against the more traditional approach of stuff like puree. This meant that we had to ensure that we had the right weaning products as, it turns out, babies can't just pick up a knife and fork and feed themselves. The lazy gits!
We were therefore delighted to be sent some weaning items from Munchkin to help us start on our weaning journey. This included four White Hot Safety Spoons and three White Hot Bowls which have an innovative strip which change colour if the food is too hot, and a Click Lock Trainer Sippy Cup which guarantees no leaks or spills as the little one gets used to drinking from a cup. My review of these items are below:
Product Description
Munchkin's innovative White Hot Safety Spoons can help make those first feedings easier to swallow for both of you. Simply dip the tips of the spoons in heated pureed baby foods to check if it's too warm. If the tip turns white, the food is too hot for baby to eat. Wait for it to cool, dip again, and if the tip is no longer white – voila! You can feed your little one without worrying about a thing. Features include:
Patented White Hot System: spoon tip turns white when baby's food is too hot (approximately 110 degrees F or 43.3 degrees C and above)
Tapered spoon bowl is comfortable for little mouths, and soft tips are gentle on gums
Long handles for easier high chair feeding
BPA- and phthalate-free
Top rack dishwasher-safe
Colours and assortments may vary
3+ months
When you pour food into these White Hot Bowls, the strip will activate and turn bright white if it's too warm for consumption. Not only are the sides of these bowls deep for easy scooping, but they stack oh-so-neatly when you put them away at the end of the day, too. Overheating can sometimes happen when you are busy prepping food for your family. But never fear, we have your back against burned tongues during mealtime. Mealtime burns be gone!
Great for toddlers learning to eat hot food, soup, etc.
Patented White Hot system – colour strip turns white when food and bowl are too hot
Stack neatly for easy storage
Microwave safe, freezer safe, top dishwasher safe
Ages 6 + months
Babies and messes go hand in hand, but you can eliminate at least one kind of leak with Munchkin's Click Lock Trainer Sippy Cups, which come with a 100% leak-proof guarantee! These innovative training cups have handles and feature a simple locking lid that closes to create a leak-proof seal. You can see, hear and feel the cup lock in place, so you have triple assurance against dribbles and drips. Munchkin even backs this no-leak promise with a 100% replacement guarantee. Secured, and rest assured – this might just be the sippy cup of your dreams.
Starter sippy cup with handles and 8 oz capacity for water, milk or juice
No room for error – locks in place with an audible click
Soft, silicone spout plus easy-to-clean, one-piece valve
Trainer handles make cup easy to hold
Interchangeable lids for any Click Lock cup
BPA-free
Top rack dishwasher-safe
Colours and assortments may vary
6+ months
Product Experience
White Hot Safety Spoons
A spoon is a spoon, right? Well, not when it's a white hot safety spoon! OK, so it still does the same job as a 'normal' spoon in terms of scooping up food and shovelling it in your sprog's mouth, but it comes with the added benefit that it visibly shows when the food is too hot. When dipped into warmed up food, the tip of the spoon will change colour from (delete as appropriate) blue / pink / green / orange if the food is too hot for the little one to eat. I'll admit that it isn't the greatest photo in the world, but you can see that the photo on the right has a lighter blue tip than the one on the left:
Coming in a pack of four, the colour changing nature of the spoons could be seen as a gimmick, but for us, we've found it really useful. When heating puree or other food, it provides an additional reassurance that the food is at a temperature that won't hurt the sprog's mouth. Even ignoring the temperature changing tips of the spoon, we've found them to be good – the long handles make it easier to reach across a table and the spoons have some flexibility / softness to them which I'm sure Baby L appreciates on her gums.
They are also a good width for little hands and Baby L has enjoyed holding the spoons and learning to put them to her mouth herself. A slight negative with the spoons though is that they seem to scratch really easily – after a few weeks of using, we have noticed that they have quite a lot of deep marks and abrasions, presumably from when we've washed them with a scourer sponge – not a massive deal, but it does mean that the tip is no longer smooth to the touch which is a slight worry if it is going into the little one's mouth.
White Hot Bowls 
As per the white hot safety spoons, Munchkin's white hot bowls have a colour changing strip which run along the inside and bottom of the bowl – if the food is too hot, then the strip changes colour. The bowls come in a pack of three and are made up of bright colours to delight your little one's eyes – these colours are green with blue stripe, orange with blue stripe and yellow with orange stripe. The photos below show how the orange strip on the yellow bowl changes colour when filled with porridge that is too hot for the sprog to consume:
Again, the temperature changing strip is a useful addition to the bowl. We've tended to use the bowls for things like fruit and veg so far, but I imagine that the colour changing strip will come into its own when we start feeding Baby L small portions of our hot food. As a bowl, I can't fault them as they do everything you'd want – they are light, deep, solid, stackable and are microwave and freezer safe. Sometimes Baby L seems to even enjoy the bowls more than the food as she has been known to pick up the bowl and empty the contents before starting to munch on the plastic. Weird baby!
The only improvement I'd make to the product is perhaps including lids – I know they are bowls rather than containers, but we've often had to put cling film over the bowls when some kind of lid would have been nice.
Click Lock Trainer Sippy Cup
We'd heard that it was important to start getting Baby L to drink other fluids than just the missus' finest natural and organic boob juice, however we had a few reservations about how best to do it, mainly due to the mess! We'd heard some horror stories about water going everywhere but in the baby's mouth, therefore my ears instantly pricked up when I read that Munchkin offer a 100% leak proof guarantee with their click lock trainer cups. This is achieved by a seal when the lid of the cup is attached through a simple twisting motion – as an added benefit, the cup makes a click noise to let you know that the cup lid has been closed properly.
Baby L has been using this cup for around a month now and we've had no spills at all. This is even more remarkable considering how the little one uses the cup more like a toy than an actual vessel to drink her water – the cup has been thrown on the floor, banged around on the table and flipped upside down numerous times without even a drop of water spilling out. The cup comes with two large handles on either side which make it easier for the baby to grab at and hold the cup. It also has a soft but sturdy spout with which to get the water out – being the review conscious bloke I am, I've had a go on this spout and it is almost a chewing whilst sucking motion that you need to do in order to obtain the wet stuff on the inside.
The little one isn't quite at the point where she can hold the cup to her mouth and drink water herself – I'm pretty sure she's chewed on every part of the cup on her own accord apart from the teat! We've therefore been holding it to her mouth so that she can have a drink and get used to something that isn't boob juice. As she grows, I think the cup will become even more useful – it is a nice middle ground between a bottle and an actual cup, plus comes with an 8 oz capacity which seems a good size for when we go on day trips.
Cost
In terms of price, the 4 x White Hot Safety Spoons cost £2.99, the 3 x White Hot Bowls are £4.99 and the Click Lock Trainer Sippy Cup comes in at £3.99. Each of these items can be purchased directly from Munchkin or from other retailers including Amazon

. I personally have no qualms with these prices – to get all of this kit for just over a tenner seems pretty reasonable to me. I'm sure you can find cheaper products out there, but as this stuff is already pretty cheap, it won't save you too much money.
It's also worthwhile remembering that the spoons and bowls come with the white hot technology meaning that they change colour if the food is too hot. I think this is a useful addition to a 'normal' spoon or bowl, so I'd personally be happy to pay an extra quid or so to have this additional safety measure. Similarly, I've heard a lot about people struggling to find cups that don't leak – the click lock trainer cup hasn't leaked for us, so £3.99 seems a pretty good price for something that comes with a 100% replacement guarantee.
Summary
I have very few qualms with any of these products and would be more than happy to recommend to other parents. Each of the weaning items do the job that they are designed for (and do it well), plus cost just a few quid each. The inclusion of the white hot strip to the spoons and bowls is an added bonus and provides a safety measure for parents when feeding their babies and for toddlers when feeding themselves.
Out of each of the three items, my favourite is the click lock cup as it simply does not leak – Munchkin set their stall pretty high when they said it was 100% leak proof, but their claims are totally justified in my experience. Apart from the colours of the items being slightly gareish (but what baby product isn't?!) and the spoons developing some scratches and abrasions, I'm struggling to find any other downsides with the bowls, spoons and sippy cup.
The DADventurer Star Rating
White Hot Safety Spoons – 4 out of 5
White Hot Bowls – 5 out of 5
Click Lock Trainer Sippy Cup – 5 out of 5
Review shared on the following linky: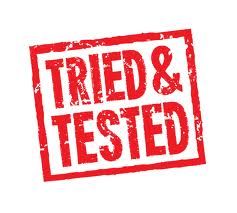 N.B. This review was written by me (Dave) and represents my honest opinion of the products. The spoons, bowls and cup were sent to me by Munchkin with the purpose of writing an honest product review in exchange for the products.
[jetpack_subscription_form subscribe_text="Like what you've read? Then join The DADventurer mailing list to ensure that you never miss a post. Just pop in your email address and you'll get all the latest musings directly to your inbox."]