Preparing for all eventualities when out and about with the little one is always a difficult task. You can pack loads of stuff and think you're ready until you're in the middle of a shopping centre and a double poonami strikes followed by an explosion of half digested breastmilk.
I recently wrote about what I carry around in my dad's baby changing bag, which if you've not read, contains 35 separate items. This is obviously a lot by anyone's standards! So what do you do when it's not feasible to take everything in this changing bag or when you're only popping out somewhere and know you'll not be out very long? Well, until recently, we didn't have an option so we either took mine, or the missus', baby change bag.
All of this changed though when I was lucky enough to be sent for review the Munchkin designer nappy change kit. This is a stylish and compact nappy changing kit which holds all of the essentials you need for changing the little one if you find yourself caught short. This means that you can go out with something the size of a small handbag without needing to take loads of other stuff with you. It also gave me the added benefit of winning some much needed husband points as the missus had been looking to buy one of these recently. Win win!
Below is my review of the product:
Product Description
The product is described as:
Part of the mummy job description is being able to change your little one's nappy, anytime, anyplace. Munchkin has you covered in any nappy emergency with the Designer Nappy Change Kit – a stylish, compact nappy changing kit for home or on the go. The kit includes storage facilities for everything you need to comfortably and hygienically change your baby's nappy no matter where you are, a changing pad with comfy head rest, an expandable mesh pocket that holds 4 nappies, a wipes case that holds standard wipes, and a zipped outer pocket for mum's personal items like phone and keys. A convenient snapping strap allows you to easily attach your nappy kit to your pram, baby carrier, purse, or nappy bag.
Compact nappy changing kit for home or on-the-go use
Expandable mesh pocket holds up to 4 large nappies
Padded changing mat detaches for separate use
Includes wipes case
Stylish, neutral colour with striped interior design
Note to Munchkin and other brands: It's perhaps best to not use things like "mummy" when describing a product. I understand the reasoning if it was still the 1960's, but surprise surprise, us dads do stuff too. Try using "parent" and / or "mum or dad" as this doesn't come across as sexist and doesn't alienate everyone with a penis 🙂
Product Experience
The Nappy Change Kit arrived safely and was quickly ripped open by the missus as I tried to hold her back. Babies can do weird things to people I've discovered since becoming a dad. On eventually getting the item in my hand, I was surprised at how compact it was and how nice it looked. I've always had a penchant for brown and pink together (I still fondly remember my brown and pink checker board Vans), so this ticked all my boxes from a looks perspective – it is available in blue or green if the sexy brown and pink combo isn't to your liking though.
The Kit easily opens up and can quickly be unfolded. This gives you a decent sized changing mat which has a striped pattern and cushioned pillow, as well as two expendable mesh pockets in which to keep baby essentials. The product also comes with a green, transparent case to hold wipes and has a useful outside pocket to store things such as your car keys. Overall, I was very impressed with the look of the Nappy Change Kit and couldn't find anything to fault it, which I can assure you very rarely happens!
To properly test the product, we needed to fill it with stuff and see how it got on during a few outings. The point of something like this, in my opinion, is to have a few essentials if you need them when you're out. If you're going on a day trip somewhere, then take a bigger bag, but if you're just nipping to the shops or a baby class, then you'll never (fingers crossed) need more than a few nappies and wipes. We decided to stock the Change Kit up with four nappies, a baby grow, some anti-bacterial hand gel and a packet of wet wipes (we didn't use the wipes case as it seemed like a hassle to take wet wipes out of the packet and put them into the case). Despite having all this stuff in, the Change Kit managed to fasten up fine, albeit a little more difficult than when it had no contents.
On our travels, we took the Munchkin Nappy Change Kit with us when we went to the library, to a number of baby classes, when the missus met up with some friends and on a trip into town. When it came to changing the little one when we were out, we found the Kit really useful and it lived up to our expectations. It held everything securely in place, was easy to fold out to reveal the change mat, was wipeable and folded back up without any dramas. We also discovered that the change mat can be detached from the pockets if needed.
The Nappy Change Kit also comes with a carry strap which makes it easy to attach to something like the pushchair or around your wrist. This is achieved with the use of a simple press stud. If you don't have a pushchair or a wrist, the kit is so compact that it fits pretty well into a large handbag. The missus commented more than once on how nice it was to not have to carry around a changing bag when she could pop this into one of her handbags.
Cost
The Designer Nappy Change Kit costs a very reasonable £12.99 and can be bought directly from Munchkin or from a number of other retailers including Amazon, Argos, Tesco and Asda. This price looks even better, and bargainous some might say, when compared to other change kits on the market such as the Skip Hop Mini Changer which can set you back the best part of £29.00.
From what I've seen, they do exactly the same thing and the only difference is the likes of brand name and colour. Therefore at a penny less than £13.00, the Munchkin Change Kit offers exceptional value in my opinion and I'd personally expect to be paying more than this for it.
Summary
Most parents have a changing bag for their little one which houses everything that they might need. Sometimes though, this can be impractical – you might not have a pushchair to attach it to, you might be wearing a baby carrier or you might not have the space in the car. That is where the Munchkin Designer Nappy Change Kit is ideal.
It is by no means an essential item, but it makes life so much easier and gives you a choice about what to take with you depending on where you're going. What's the point of taking a changing bag to a baby class when you're literally in the car, sat down in the class, then back in the car?
I personally think that the Nappy Change Kit is a great little product that does everything you'd expect it to do. I wouldn't buy one if it was over double the price like the Skip Hop is, but at little over a tenner, you can hardly grumble for a pretty faultless product. It is now the wife's go to product when we're going on a short trip out of the house.
DADventurer Star Rating
5 out of 5
Post included on the following linky: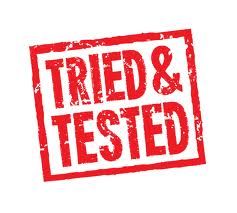 N.B. This review was written by me (Dave) and represents my honest opinion of the product. The changing kit was sent to me by Munchkin with the purpose of writing an honest product review in exchange for the product.
[jetpack_subscription_form subscribe_text="Like what you've read? Then join The DADventurer mailing list to ensure that you never miss a post. Just pop in your email address and you'll get all the latest musings directly to your inbox."]