When you have a baby, space becomes a premium. You end up with so much baby stuff that the house ends up looking like an over stocked high street shop. This becomes even worse when you need to travel somewhere, be it to the grandparents for the evening, to the park for a picnic or to the beach for some sandy fun.
Having a three-door car ourselves, we often have to carefully plan what we are going to pack in order to ensure we can take everything we need to with us. Once we load in a car seat, the push chair and the moses basket, we're often left with very little space to fit in the dog's stuff, let alone the things we need!
Thus any product that is versatile and can be used for multiple purposes automatically gets a tick in the box from me. We were therefore very pleased to try out and review the award winning NSAuk Sun Essentials Travel Centre. This is a versatile pop-up travel product which can be used indoors or outside as a travel cot, a play tent or a sun shelter.
My full review of the product is below:
Product Description
The product is described as:
The NSAuk Deluxe Pop Up Travel Cot Large is perfect for nap times when on holiday or visiting grandparents. The travel cot provides a comfortable play area for baby as well as a sleeping area with a self inflating mattress, sleeping mat and an insect mesh when it's time for a rest. This travel cot pops up and folds away in seconds and is compact and lightweight, a practical and convenient solution for a family on the move.
Features include:
Offers UV protection equivalent to UPF 25+ from the sun's harmful rays
Pops up immediately – no poles or fiddly frames to put together
Folds away in seconds
Lightweight and compact in its zip up bag, ideal for taking away on holiday in your hand luggage or in the car to grandparents house
Fine insect mesh is fitted to stop bites or stings
Additional zip up flaps cover insect mesh
Zip-in self inflating mattress 
Machine washable sleeping mat
Ground fixing pegs included
Not only practical but great fun for babies and toddlers too
Perfect for playing in or for naps
Great as a uv sun tent for beaches, parks and gardens
Product Experience
On opening the box, I was greeted with a few bits. There was a red zip-up bag which I learnt housed the pop-up travel centre, a blue self-inflating mattress inside a plastic bag, a blue and beige padded mat with velcro, a small bag of ground fixing pegs and the instructions. I had a quick look through the manual which was easy to understand and came with instructional pictures, then felt confident enough to pop the tent up.
The Travel Centre is spring loaded and opens automatically once you take the safety band off. This means that you can put up the Travel Centre in seconds and don't have to mess around with assembling anything such as tent poles. I'll admit that I felt a bit like Paul Daniels – one minute there was nothing there, the next I had a large tent-like structure in front of me as quickly as you can say "Abracadabra".
It is then a simple process to attach the sleeping mat inside the Travel Centre with Velcro to provide additional padding to sit or lay on when inside. You can then add the air mattress, which nicely tucks away in a zipped section under the Travel Centre, to provide even more comfort. This air mattress is described as self-inflating, however I found I had to blow in a few breaths in order to make sure it was as inflated as I wanted it to be. This process takes no more than a minute, meaning that the Travel Centre is ready to be used very quickly. The simple assembly feels like it'd take the stress out of certain situations, such as a crying, overtired child wanting somewhere to sleep when at the grandparents or an excited kid wanting to get into their play tent if you've got to the beach.
There are two large side zipper panels on the Travel Centre which can be unzipped or zipped up depending on your preference. Opening the first zip reveals an insect mesh which helps protect from any bugs which wish to feast on your little bundle of joy. The second zip allows you to open the insect mesh so that you can get inside the Travel Centre. Once unzipped, these panels can be help open using the ties which hang from the tent. There are also additional flaps on the ends to allow you to close up the Travel Centre or allow air in through the insect mesh panels. This gives you the ability to close everything up at bedtime or have a combination of panels open / closed depending on where you are and what the sun UV levels are like.
There's a certain art to folding the Travel Centre back up and it isn't as easy as popping open. However, with instructions by your side, it can be done and I imagine that it gets easier the more you use it as you get used to how to fold it up. I was surprised to find that the inside padded mat and inflating mattress both fold up relatively small too – this gives you the ability to put everything needed into the handy carry bag. There is also enough room for one or two other items, be it pyjamas or a favourite toy. This makes the product awesome as the entire Travel Centre takes up hardly any space.
The colour of the Travel Centre I was sent is a little bold for my liking as it is red, blue and beige, however I guess the upside to this is that you're never going to lose where you're sat when at the beach or in a park! The Deluxe Travel Centre does come in other colours too, including khaki, green, yellow and blue, so there's a colour for every child. There are two versions of the Travel Centre; one for infants and toddlers up to two years old and the Deluxe, which we were sent, which is recommended for young children up to four years old.
We've tested the product at home, but due to the time of year and fact we've not stayed at anyone's house since receiving the product, I've not been able to test as thoroughly as I'd have liked. It would have been nice to have seen how Baby L got on with sleeping in it at night as a travel cot or how it could be used as a sun shelter in the garden whilst having a BBQ. However, having seen the product in action, I can confidently say that I'd see no issues with using it at someone else's house or on a day trip out somewhere.
My only question would be about how well a little baby would sleep in it throughout the night and how easily it would be as a parent to comfort your child during the night if you're in bed and she's on the floor in the tent, however only time will tell when it comes to this. I can confirm though that the Travel Centre is a really spacious and comfortable area for a baby or toddler to hang out, whilst the zips, which can only be opened from the outside, ensure that the little one is safe inside. As shown in the photos below, Dax really enjoyed the Travel Centre and attempted to claim it as his new bed, whilst I was able to comfortably fit into the Travel Centre!
Cost
The 3-in-1 pop up Travel Centre is priced at £74.99 and is available from a number of retailers including Amazon
and Safe Tots. I think this is really reasonably priced. Considering that a travel cot can set you back a minimum of £50.00 and a play tent around £25.00, the versatility of this product and the fact it is all-in-one makes it well worth the price in my opinion.
Summary
I was pleasantly surprised with the Travel Centre. Not only is it multi-purpose – play tent, sun shelter and travel cot – but it does all of these three things really well. So often a product is designed to do a number of tasks that it ends up not doing any of them well, however this is definitely not the case. The Travel Centre is a good size, is comfortable and folds up into a bag not much bigger than a dinner plate. If you want something that can be chucked into the car for days out and the occasional overnight stay, then this product is fantastic. I'm looking forward to next summer when we can take it with us to have picnics in the park or on the beach etc.
Some people will always prefer products that are designed for a particular purpose though, so this might be where some people don't get on with the Travel Centre. For instance, it may make sense for some people to spend £75.00 on a travel cot as their little one frequently stops at a grandparents so they want to ensure the baby isn't asleep on the floor. However, for us, any overnight stays will be infrequent in nature and the hassle of getting out of bed and onto the floor to pick the baby up out of the Travel Centre is probably something we could live with if it means saved space in the car and something which is so easy to pop-up.
The DADventurer Star Rating
4 out of 5
Post included on the following linky: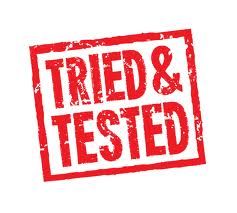 N.B. This review was written by me (Dave) and represents my honest opinion of the product. The Travel Centre Deluxe was sent to me by NSAuk with the purpose of writing an honest product review in exchange for the product.
[jetpack_subscription_form subscribe_text="Like what you've read? Then join The DADventurer mailing list to ensure that you never miss a post. Just pop in your email address and you'll get all the latest musings directly to your inbox."]