They say breakfast is the most important meal of the day, but I disagree.
With my newbie dad hat on, I believe that ALL meals are equally as important as it gives you the chance to get together as a family and spend some quality time with one another. In a world nominated by technology and limited face-to-face interaction because of the wonders of social media and TV, meal time is one of the few parts of the day when the family is in the same place at the same time. Be it catching up on each others' day, gossiping about the weird neighbours or having a good old argument, tea time should be a family occasion.
Both the missus and I want to ensure that meal times are quality times for our expanding family, so we were very excited to be sent for review the award-winning Stokke Tripp Trapp chair in the new Storm Grey colour which was launched in September. In addition, we were provided with the Newborn Set which allows a baby to use the highchair during the first few months of their little lives. Both elements come together to create a unique, stylish and comfortable chair which allows the fruit of your loins to join you at the table for mealtime regardless of their age.
Below is my (pretty detailed!) review of the Stokke Tripp Trapp children's chair:
Product Description
The Tripp Trapp chair is described as:
The Tripp Trapp is an ingenious highchair that revolutionised the children's chair category back in 1972 when it was first launched. It is designed to fit right up to your dining table, bringing your baby into the heart of your family, allowing him or her to learn and develop alongside you. The intelligent, adjustable design allows freedom of movement with both depth – and height adjustable seat – and footplates. When adjusted correctly, your child is ensured a comfortable and ergonomic seating position at any age.
Your child can comfortably sit at the dining table and enjoy mealtimes with the rest of family.
Classic, iconic design will never go out of style.
Unique adjustability of seat and footplate to ensure both back and feet support for any age.
Stable footrest that supports your child and provides comfort.
Solid construction and European beech wood can hold up to an 85 kgs. adult.
Array of color choices match any décor.
Optional extended gliders provide increased backward stability
Easy to clean spills with dampened cloth.
Water-based, non-toxic paint.
No harmful substances/free from bisphenol and phtalates.
The Newborn Set is described as:
The Newborn Set is designed for interaction from birth, as it lifts your newborn up to your height at the table. This enables eye contact and a great opportunity to spend quality time together whilst building strong relationships with the whole family. The ergonomically designed seat comfortably cradles your newborn baby.
Enables the chair to be used from birth
The comfortable upholstery can be removed and machine washed
The seat has red-green indicators which turn green when it is mounted correctly on the Tripp Trapp chair
Easy to remove
5-point safety harness
Fits any Tripp Trapp chair produced after May 2003
Product Experience
The Tripp Trapp arrived in a triangle shaped box, which at first, made me think that the missus had treated me to a new guitar. However, on seeing that "Gibson" had been spelt "Stokke", I realised that it was our highchair and a different type of excitement took over. We'd seen and read a lot about the Tripp Trapp being one of, if not the, best chairs on the market, so I was looking forward to putting it through its paces.
On opening the box, there were only a few component parts (7 pieces of wood, 2 rods and screw set) which suggested that it would be pretty straight forward to put together. Having learnt my lesson from previous baby products, I decided to follow the user guide which was complete with assembly instructions and diagrams. Assembling the Tripp Trapp was pretty simple and took no longer than 15 minutes.I was particularly impressed with how solid each component piece was and how easily the pieces slotted together to create a secure structure.
The only mistake I made was to tighten all of the screws with the Allen key too early, which meant that the seatplate and footrest would not easily slide into the grooves, however this was rectified by untightening, repositioning and retightening. The Tripp Trapp was now fully assembled as a highchair for use by kids over 36 months old.
However, Baby L is just a little bit younger than 36 months – she's 9 weeks old! Luckily, Stokke have created a Newborn Set which is a separate accessory to the Tripp Trapp but quickly and easily fits onto it. It can be used from birth through to six months, at which point a Baby Set is available. On opening the box of the Newborn Set, I was greeted with the actual seat bit which was fully assembled, two extended gliders to increase stability of the highchair, a plastic arm for hanging a toy and the user guide. I was pretty surprised that the user guide was as thick as the one for the Tripp Trapp considering all you needed to do was clip on the seat and clip the extended sliders onto the feet. Job's a good'un!
The seat has two clips which you pull back – this allows you to push the seat onto the top rung of the Tripp Trapp. You then push the clips forward and the seat is secured. This is confirmed by two green dots which are visible rather than two red dots to say it's not fitted correctly. This paragraph will make more sense when you try it for yourself – the point is that it is very simple to fit and remove the newborn seat! I attempted to fit the plastic arm to hang a toy on, but this was a bit difficult and I was concerned about damaging the fabric, so I didn't bother putting it on.
The seat has a harness, similar to that of a car seat, which ensures that the little one is safely fastened into it. You put both arms through separate straps, then clip these into a buckle which comes up beneath the legs. These straps can be loosened or tightened at the back of the seat and taken off if needs be. The seat is well padded and the material can be taken off in order for it to be washed if needs be, although we haven't done this yet. You can also get a separate, more funkier textile set if you wanted a different pattern on the Newborn Set.
Since having the Tripp Trapp, we've used it multiple times every day and I can honestly say it has been amazing for us. Baby L loves it and often settles down when she's put into it compared to her moses basket, play mat or bouncy chair. Both Hay and I want to ensure that mealtime is always family time, so the Newborn Set ensures that she is with us at the table from an early age. Hopefully, as she grows, this will get her used to sitting at the table with us. Previously, we would put her into a moses basket when we were eating, but she'd often cry and need to be held whilst one of us attempts to eat one-handed. With the Tripp Trapp though, we've found that she cries less because she can see us and it means that if she does whine, we are able to comfort her at our level rather than bending down to a moses basket.
We've also used the Tripp Trapp and Newborn Set around the house. If one of us is cooking or washing up, we'll take the highchair through to the kitchen so we can watch her and she can watch us. Similarly, in the evening we'll bring her next to the settee and she is more than happy just looking around whilst we have a minute to ourselves. We've not really used the Newborn Set as a separate rocking seat (mainly because Dax might lick and sniff her to death!), but you can easily take it off the Tripp Trapp and place it on the floor. This means it is mutli-purpose as it gives you an extra something to put the baby in and rock it back and forth.
The Tripp Trapp is available in many colours, but we have Storm Grey which is new to the range. Although it is not a particularly striking colour, unlike the aqua blue, green and red, it is a nice neutral colour which fits in perfectly in our living room. The Newborn Set we have has off-white around the sides (I'm sure there's an actual name!) and beige textile kit – the material can be changed and the Newborn Set can be bought in Storm Grey too. In terms of design, I think the Tripp Trapp looks cool and I'd much prefer this as a statement piece in my living room rather than a cheap, plastic looking one.
Cost
The Tripp Trapp in Storm Grey costs £159 and can be bought directly from Stokke or from retailers such as Amazon
. A range of colours are available and you can pick up the Tripp Trapp in different colours for slightly cheaper. Similarly, the Newborn Insert can be bought from Stokke and the likes of Amazon
 and costs £101. So at a total of £260 for a highchair for a baby up to six months old, it can hardly be considered cheap. Throw in additional extras, such as the cushion and Baby Set (which you'll need for babies six months to 36 months) and you'll be looking at the best part of £350.
I'm not going to defend the price as it is very steep. What I would say though is that you're buying a stylish product that can be used throughout your child's life. It can even be used by an adult, so it will always have a purpose in the home. If you have the money, then the Tripp Trapp is awesome. If you don't have the money, there are plenty of other options on the market for less.
Summary
We love the Tripp Trapp. And I mean love. It may sound crappy, but for us, it is more than a highchair. It is a place where Baby L can comfortably chill out both at the table and elsewhere around the house. The fact that she can be pulled so closely to the table when we eat is really nice and makes it feel like she is part of the family rather than something you need to put down in order to eat (and when I say "put down", I don't mean in that way!). The Tripp Trapp is on the heavy side which makes it a bit difficult to move around the house, but I guess the main purpose of a highchair is to be at the table.
The price is a pretty big stumbling block and isn't something that can be ignored. It is a fantastic product, but I feel that you are paying a premium for the brand name and aesthetic appeal. It must be remembered though that this chair grows with your baby, which means that you don't have to buy any other products in the future. By the time you've bought a high chair, a booster seat and / or a small table and chair for your little person, arguably you've spent around the same amount of money.
DADventurer Star Rating
4.5 out of 5
(Read the next review of the Baby Set, Cushion and Harness for babies six to 36 months old)
Post included on the following linky: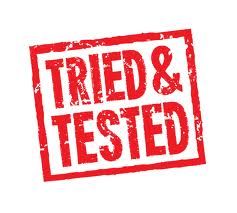 N.B. This review was written by me (Dave) and represents my honest opinion of the product. The Tripp Trapp and Newborn Set was sent to me by Stokke with the purpose of writing an honest product review in exchange for the product.
[jetpack_subscription_form subscribe_text="Like what you've read? Then join The DADventurer mailing list to ensure that you never miss a post. Just pop in your email address and you'll get all the latest musings directly to your inbox."]