When I think of massages, I'm either struck with images of trying to get the missus in the mood, relaxing spa days or dodgy back alley massage parlours which incorporate a "happy ending". So, when I first heard about baby massages, I was somewhat dubious and a bit confused about the concept.
However, with the recent arrival of Baby L into the world, I have had the opportunity to try out baby massage after being lucky enough to receive an organic baby massage experience kit from Tiddley Pom.
If you've not yet heard of Tiddley Pom, they are a company who have developed a range of organic baby products based on many years experience in the cosmetic and skincare industries. Their products combine aromatherapy, music and massage to help create a relaxing atmosphere for the little one as well as develop the bond between baby and parent.
I've now done a couple of different types of massages with Baby L and include my review of the baby massage kit below:
Product Description
The product is described as:
This unique baby gift gives new parents everything they need to enjoy baby massage and care for baby's skin. It contains:
Organic Baby Wash (50ml) – Our organic baby wash is the perfect treat for your baby's skin at bath time. It soothes and cleanes with an infusion of English Lavender and Chamomile oils. Ideal for delicate new born baby skin
Organic Baby Massage Oil (50ml) – Our organic baby massage oil is a treat for baby, mum and dad too! It is made from fragrance-free certified organic sunflower oil. In a convenient spray bottle, Tiddley Pom's Organic Massage Oil is ideal for baby's body and face. This natural carrier oil imparts a host of naturally derived vitamins including gamma linoleic acid, omega 6 and other fatty acids essential for healthy skin.
Organic Soothing Baby Lotion (50ml) – Our Organic Soothing Lotion's blend of organic English lavender and chamomile essential oils helps to calm, heal and soothe your baby's skin. It contains smooth, luxurious butters such as shea and coconut from Africa and is rich in omegas 3, 6 and 9 to moisturise and protect.
Organic Nappy Balm (30ml) – This specially-designed nappy cream is silky and smooth, helping to restore your baby's natural acid mantle layer as it protects.
Instructional baby massage DVD and booklet – give a step by step guide to the bonding experience of baby massage.
As you can see above, the baby massage kit has everything you need to relax, soothe and bond with your chubby little funster. There are four different products which have a different purpose and are labelled as Steps 1 through to 4. There are also plenty of instructions on how to get the most from the kit with directions on the back of the packaging, in the easy to understand and illustrated Introduction to Baby Massage booklet, as well as the instructional DVD.
I must admit that I'm not normally into organic or natural products. If I'm at the supermarket I'll buy the mid-range potatoes rather than spend a little extra on the organic spuds. However, with this being a product for the fruit of my loins, it is great to know that these products are as natural as they can get. All of the products in the massage kit are labelled with "free from harmful chemicals" and are 74%, 91%, 99% and 100% organic which is really nice to know when you smother it on your little one's skin. The smell is also nice as the products are made with a blend of lavender and chamomile essential oils which have a soothing effect.
Product Experience
In true Dad / man fashion, I decided to just crack on with the massage without fully reading the instructions or watching the DVD. I did however use the directions on the back of the package which used all four products and involved using a bath for Step 1. I added a few drops of the first bottle to the bath and used it to "refresh and revive" the little one, although I didn't get any of the bubbles I expected (N.B. I've since used the baby wash again and got plenty of bubbles – I must have just been too tight the first time around!).
Step 2 was to apply the massage oil to my hands and then massage over the arms, hands, shoulders, tummy, legs and back. Baby L decided to go through a range of emotions when I did this, ranging from total calm to uncontrollable crying. After soothing her, I went on to Step 3 which was a soothing lotion that I applied to any dry parts of her body. The final part was to but on the nappy balm which protects the skin.
Baby L was 10 days old at the time of this first massage and it was her first bath, so in hindsight, attempting the full experience may not have been the wisest thing on my behalf! Still, she seemed to enjoy the contact and touching in between cries and I enjoyed the bonding experience of skin on skin.
A few days later I sat down to watch the DVD and was impressed with the information and instructions provided. The DVD is split into different types of massage ranging from one which is playful through to ones to help soothe common ailments such as colic. Each type of massage is a few minutes in duration and are thoroughly explained and demonstrated. I found the DVD really useful and admit that I probably should have watched it first and paid special attention to the part about getting the baby ready for massage.
Having watched the DVD, I decided to do a playful massage with Baby L when I next changed her nappy. She was quite awake and looking around, so, having learnt from above, I made sure she was ready for massage by getting eye contact and stroking her head as advised.
The playful massage involved moves like wiggling arms and legs, getting her to touch her toes with her hands and crossing her arms. She seemed to enjoy this and I found it a really nice way of interacting with her. Obviously babies don't do much and it's not like I can give her a PS3 remote to have a two-player game on FIFA, so doing these playful movements whilst talking to her was quite an enlightening way for us to play with her.
Cost
The gift set is available for £25 from Boots, however Tiddley Pom also have a wide selection of other gift ideas ranging from bundles such as baby's first Christmas pack, to individual items such as organic baby massage oil, which are available in their online shop and in other retailers such as Debenhams. This ranges from about £5 upwards depending on the product. Personally, I think that £25 for the massage experience is a tad on the pricey side, but that is because I'm a little bit tight and rarely indulge in luxury and organic products.
Summary
I really liked the massage kit and will continue to use some of the techniques I learnt on Baby L. Completing all 4 steps is probably a bit much every time you want to massage the little one, but having a quick massage of the tummy if she has wind or a playful wiggle of the legs and arms if she is alert, are definitely things I will keep in my locker. We also continue to use the baby wash when she has a bath which makes her skin soft, and will use the soothing lotion and nappy balm if she suffers any dry skin or irritation.
The products contain no harsh chemicals and are all organic, which is really good to know. As mentioned earlier, I think this is really important and it has made me think differently about buying cheaper alternatives when doing things like bathing Baby L.  At the end of the day, it is your newborn's delicate skin and buying organic, natural produce can only be beneficial.
The baby massage experience kit is also a great alternative present to give any new parent, and at £25, it is at a decent price point considering the comprehensive set of four products, a DVD and the attractive packaging. With many cuddly toys, clothes sets and books costing double figures, the massage kit is a nice, unique gift idea.
DADventurer Star Rating
4.5 out of 5
Post included on the following linky: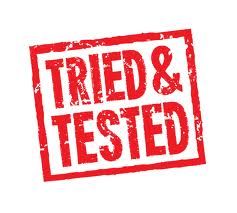 N.B. This review was written by me (Dave) and represents my honest opinion of the product. The baby massage kit was sent to me by Tiddley Pom with the purpose of writing a product review in exchange for the product.