Finding out that you, or your partner, has a bun in the oven is a pretty pant-wettingly exciting time. By this, I obviously mean that she is pregnant, not that she's just done some baking – although that can be pretty exciting too.
One of the great things about pregnancy is being able to plan for the future and get everything ready for the sprog's arrival. Buying a pushchair, choosing a name, buying tiny clothes and decorating the nursery are all tasks that need completing around the time that the little one pops into the world.
We'd decorated the small bedroom (now called Baby L's room) about a year before we found out that we were pregnant. As the colours suited a nursery and it was still in pretty good nick, we decided not to bother re-decorating, but instead just make it a bit more baby-fied.
This included moving a lot of our crap out of the room and replacing it with baby stuff like a cotbed, cuddly toys and loads of nappies, as well as adding animal themed wall stickers, new curtains and sparkly, pink letters to spell out her name. A couple of recent additions to the room to continue the animal idea has been Bump Pods and a Cot Coverlet from nursery product specialists Baroo's Ellefunk range.
Check out my review of these nursery items below:
Product Description
The Ellefunk Nursery Range is made up of a herd of super colourful elephants who follow each other trunk to tail across a crisp white background. The perfect collection to create a bright and cheerful nursery setting for either a boy or girl. The Ellefunk nursery collection features an extensive range of products from nursing pillows to toddler bedding sets.
The cot bed bump pods are individual, padded pods which can be placed around the bars via Velcro fastenings. Size is 41cm x 23cm x 1cm width, the outer material is 100% cotton and the filling is 100% Polyester. There are 20 in a pack and they are machine washable.
The cot coverlet is suitable from birth, is far more lightweight than a quilt and ideally sized for cots and cot beds. The size is 110cm x 135cm. 100% cotton and machine washable.
Product Experience
On opening the packaging, I was immediately hit with how cool and colourful the Ellefunk print looked on the coverlet and bump pods. As Baby L's nursery is full of different animals on the walls, I knew that these products would fit in perfectly. The cot coverlet was nicely folded in its own box, whilst the bump pods were separated into two groups of ten. There were no instructions included, but I imagined it'd be pretty simple to stick them onto the cot.
The bump pods are designed to stop your sprog hitting their head on the bars that surround the cot bed. As Baby L has started to move around more and more, we've been a little worried that she'd hurt herself by rolling into the bars or falling over from a sitting position. As they are padded, the bump pods therefore provide a great deal of assurance should the little one decide that she wants to start headbutting her cot!
Fitting the bump pods is a really easy process. Each individual pod has Velcro sewn into it, which means you just need to wrap the pod around a bar, then fasten it with the Velcro. Due to the size of these pods (small, although large is available), each pod went on one bar – however, having seen other photos online, it is possible to attach one pod to two or more bars depending on the gap between your pods. Although our setup is absolutely fine as we lay her on the opposite side of the cot, my OCD does kick in a bit as we have six bars that aren't covered by bump pods!
The cot coverlet is basically a thin, flat sheet which you can fit onto the bed by tucking it under the mattress along the sides and bottom. It can then be used as a top sheet on which the sprog sleeps, or as an alternative to a duvet during the warmer months. As the little one has a baby sleeping bag at the moment, the cot coverlet is being used by us purely for aesthetic purposes – prior to receiving this, our cot had a plain, pink fitted sheet on it, which although it did the job, was a bit boring and uninspiring. As such, the Ellefunk cot coverlet has definitely made the cot bed more visually appealing and stand out in the room.
Baby L seems to really like the recent additions to her nursery too. We often find her staring at the funky elephants on the coverlet or grabbing / sucking the bump pods. As she gets older, they'll become even more useful. She'll be able to use the coverlet as an actual cover when we no longer use sleeping bags, and I'm sure the elephants will help when it comes to development, e.g. recognising colours and counting elephants.
The quality of both the bump pods and cot coverlet appears to be very good – they are both made of 100% cotton, the stitching is high quality and the elephant pattern is nicely printed on. Handily, they are both machine washable which is great for a product that is likely to be the subject of poo, piss and puke! We've stuck the cot coverlet in the washing machine and it came out looking brand new.
Hopefully it is obvious from the photos, but we have the Ellefunk range which we really like. There are a number of other patterns available if you don't like colourful elephants though, including Counting Sheep and Tweetdreams.
Cost
The Bump Pods (small) cost £47.99 and the Cot Coverlet will set you back £29.99. They can be bought directly from Baroo, or from a number of other independent and larger stores, such as Amazon
.
Although the quality and design cannot be questioned and we love how well they go with our nursery theme, I'd personally have a hard time spending nearly £80 on these two products, particularly as neither are essential. Having said that though, I do sometimes think that I'm out of touch when it comes to how much things are worth and how much people will spend, particularly when a baby is involved.
Having had a quick Google to find similar products, alternatives are available for cheaper and more expensive than the Baroo stuff. So, much like everything baby-related, you can find a product to suit your budget and other requirements. We really like the Baroo range, but personally wouldn't spend so much on a flat sheet and cot bumpers.
Summary
We really like the Baroo Ellefunk cot coverlet and bump pods. Without doubt, they brighten up the nursery and go really well with our animal themed room. The quality of the products is also excellent – it is obvious that a lot of time, effort and hardwork has gone into designing them to a top specification. Fitting the bump pods is really easy due to the Velcro, as is the cot coverlet which basically sits on the mattress and tucks underneath. Baby L is also a fan, which makes us a fan!
We love the fact that we have these Baroo products, but I feel that the price is quite high for two products which are nice-to-haves rather than essentials. Personally, £50 for cushioned pads and £30 for a sheet would blow any bedding budget we had – as a comparison, I think we probably spent £6 on two, plain fitted sheets for the cotbed!
The Baroo range definitely helps to make your nursery stand-out from the rest of your NCT group, but I can't help thinking that you either need a pretty fat wallet or to get lost in a pregnancy / baby bubble in order to spend so much on bedding. However, I'm more than happy to hold my hands up and call myself a cheapskate if this is actually reasonably priced.
The DADventurer Star Rating
Baroo Ellefunk Bump Pods – 3.5 out of 5
Baroo Ellefunk Cot Coverlet – 3.5 out of 5
Post shared on the following linky: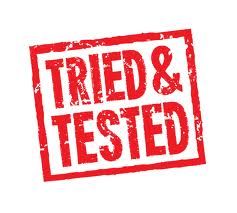 N.B. This review was written by me (Dave) and represents my honest opinion of the products. The Cot Coverlet and Bump Pods were sent to me by Baroo with the purpose of writing a product review in exchange for the products.
[jetpack_subscription_form subscribe_text="Like what you've read? Then join The DADventurer mailing list to ensure that you never miss a post. Just pop in your email address and you'll get all the latest musings directly to your inbox."]