You've got to feel sorry for dogs sometimes, particularly when a baby joins their pack. One minute they are the centre of attention getting all of the strokes, play and treats that the fury little beings can handle. The next they are relegated into second place, required to feed off the scraps of interaction that come their way in between all of the nappies, feeds and crying. Despite this demotion, they remain man's best friend – always willing to please, obey and amuse with very little complaint.
We are often asked how Dax has done around Baby L since she left the mothership. Almost as if there is an expectation that dogs and babies can't mix without some type of bloody altercation taking place. The truth though is that he's been a proper legend. Apart from the occasional misplaced sniff, lick or theft of her sock, he's adjusted amazingly to having someone else in the house. Yes, this has part been how we introduced them, but it is also part his sunny disposition, personality and training. Rather than being berated for being needy, occasionally pissing on the floor or moulting around the house, he should be rewarded for how well he has adjusted to this life-changing situation.
With this in mind, we were delighted to be contacted by online pet supermarket Feedem with the opportunity to choose and review a few dog products from their massive range of pet supplies. As one of the leading suppliers of pet food, goods and accessories, the choice was pretty overwhelming – after an hour or so of browsing, we decided to treat the pooch to a Danish Design Tivoli snuggle dog bed, a Red Dingo dog collar and a Company of Animals Nina Ottosson dog treat maze. Below is my review of these three products:
Product Description
The products are described as:
Danish Design Tivoli Snuggle Rectangular Dog Bed 45cm -18″ – The Tivoli range incorporates a wonderfully vibrant blend of colours inspired by Tivoli Gardens in Copenhagen. With the deep midnight blue of the night sky and the bright neon colours of the world famous funfair reflected, this is truly a touch of Danish Design! The Snuggle Bed is a rectangular shaped bed featuring deep supersoft polyester fibre and deep filled fibre shoulders for enhanced comfort with a drop down front for easy access. The complete bed is fully washable and the base cushion is removable for that quick wash. Made from 100% Cotton, the Snuggle bed also features a non-slip base, is attractively badged with the Danish Design Pawprint motif and features contemporary styling.
Red Dingo Patterned Nylon Blue Spots on Brown Dog Collar – X Small – Red Dingo is an Australian company who have put together a wide variety of Dog leads, Dog collars and Dog ID Tags to suit all kinds of canine customers. Big or small, dark or ginger there's something for every fur coat. All the Red Dingo products are strength and safety tested to the highest quality standard in manufacturing terms, embracing design without ever compromising functionality. These stylish dog collars are made with premium nylon webbing, solid stainless steel D-rings and our trademark buckle bone side release buckle. The bucklebone is engineered in acetal plastic and really adds that designer detail. They're made from high density fray proof tough woven nylon again for durability and reduced wear and tear. These Red Dingo designs have an authentic Australian street and surf style.
Company of Animals Nina Ottosson Dog Treat Maze Fun Interactive Game – Small to Medium – The Nina Ottosson Treat Maze is a brightly coloured fun interactive treat dispenser that is great for occupying and stimulating dogs of all ages and sizes. Hidden inside the toy, is a complex maze structure, through which the treats need to pass. Treats which are placed in the hole at the top of the toy and have to move through the maze to be released. Simply place small treats / dry food into the toy through the hole at the top. When the dog moves or knocks the maze it will be rewarded by the release of food.
Product Experience
Danish Design Tivoli Snuggle Rectangular Dog Bed – A new dog bed has been on Dax's shopping list for some time now. He had his previous one – which was shaped foam with a zippable fabric cover – for over a year and it had taken a bit of a battering from his puppy days. On opening the box, I was pleasantly surprised with the bold, vibrant colours and the softness of the dog bed. It definitely looked and felt like an upgrade on his previous doggy abode and he took to it straight away.
The bed is raised slightly around all sides, apart from the front, which makes it a great place to lean his little, sausagey head. Dax is always on the lookout and likes nothing better than laying down in comfort whilst balancing his head on something. The bed is not as high around the sides as his previous bed, but he didn't seem to mind at all! The bed also appears to be pretty durable – on a couple of occasions, Dax has decided to take his aggression out on the bed by shaking it and throwing it around the room. From what I can see, this hasn't caused any damage whereas it would have done with his previous foam bed.
We were a little disappointed with the size of the bed (18″) and expected it to be slightly bigger – it appears that my concept of size is slightly out though and 10″ is more like 6″ in reality, however we'll quickly pass over that point. Dax is a miniature dachshund so he is a pretty small, pathetic looking dog, but at times the bed does look a tad on the small side. In retrospect, we should have probably got the bed in the next size up, but it is obviously difficult to judge sizes when looking online. Having said that though, Dax loves nothing better than curling himself up into a little Cumberland ring and fits comfortably into his bed when he does so.
One of the main reasons we chose this bed was the fact that it is completely washable – you simply throw it in the washing machine and job's a good'un (obviously remembering to turn the washing machine on!). His previous bed was a massive faff. You could wash the inside cushion, but you needed to unzip the fabric cover from the shaped foam inner, then spend what felt like hours attempting to put it back on once it had dried – it was a worse job than putting a duvet cover on a duvet and we all know that that is the definition of torture. This made the bed a winner in my eyes straight away.
Red Dingo Patterned Nylon Blue Spots on Brown Dog Collar – It's not something I've massively considered before, but if you think about it, like really think about it, dogs are basically made to walk around naked. If you exclude the weirdos that dress their dog up in clothes (we only do it at Christmas, so that is fine), then the only item of clothing a dog wears is his or her collar. That's pretty much the same as me being forced to wear nothing but the same tie every single day of the week. Let's pause their for a second to let that image sink in.
So, just like humans, surely dogs want the odd wardrobe change to make them look their most dapper. Dax's previous collar was a bit frayed and the once cool star pattern had rubbed off. He's got pretty long hair so you don't see his collar too often, but when you did, he looked a bit like a stray with a very weathered collar. We therefore chose to treat him to a new Red Dingo collar, which is brown with blue spots and x-small in size.
Being the style conscious Dog he is, we chose the collar colours to go with his blue guitar pick dog tag, although other colours are available from Feedem. The collar was easy to fit and adjust, whilst the inclusion of the Red Dingo bone shaped buckle gives the collar, what the French may call, a certain je ne sais quoi. The collar feels pretty tough and rigid, although it is pretty difficult to test the fray proof and durability claims associated with the collar. Some dogs can be pretty odd when it comes to wearing different collars, but we've had no issue with Dax – if anything, he seems to have developed a slight catwalk strut since his style upgrade.
Company of Animals Nina Ottosson Dog Treat Maze Fun Interactive Game – It's important with dogs to exercise them, both physically and mentally. We used to do a lot more training with Dax when he was a puppy, but having a baby and the fact he is pretty self sufficient, means he doesn't get as much mental stimulation as he once did. We therefore thought it would be a good idea to get him a treat maze in order to test his mental prowess. Feedem have a number of different interactive games available, but we chose this Nina Ottosson red and yellow bit of kit.
The idea of the treat maze is very simple, with the benefits being that it slows down your dog's eating and keeps them stimulated. You just need to put dry food or treats into the hole at the top, then sit back as your dog goes mental trying to figure out how to find the delicious booty. Through a combination of nudging, spinning and throwing, your furry friend works the treats through the inside maze and out of one of the toy's side openings.
On its first use, Dax attempted to lick the treats out of the middle, before becoming a bit bolder and nudging it with his nose. He then learnt that he needed to flip it in order to get food out. When we now give him it, he starts flipping it straight away and manages to get treats out within a few minutes – the difficulty level is supposedly medium, so that means Dax is either pretty clever or other dogs are stupid. Either way, it is not the most challenging thing in the world, but still a pretty good distraction. The treat maze is designed to be tough and hard-wearing, which it appears to be, although I have noticed a few bite marks and frayed bits of plastic despite it only being used a few times.
Cost
The Danish Design Tivoli Snuggle Rectangular Dog Bed costs £15.75 which I personally think is a bit of a bargain. I seem to recall we spent around £25.00 on his previous dog bed – it was slightly bigger, but wasn't as nice looking and couldn't be washed as easily as this can. The Red Dingo Patterned Nylon Blue Spots on Brown Dog Collar comes in at £6.30, which seems to be pretty reasonably priced for a dog collar that ticks all of my boxes. The Company of Animals Nina Ottosson Dog Treat Maze Fun Interactive Game costs £7.99, which again isn't much money for a specialised toy for your dog. Being a bit of a skint flint, I'd probably like to see it a few quid cheaper, particularly as Dax seems to have worked it out pretty quickly. All three of these products are available to buy from the dog supplies section of Feedem's website.
Summary
I found the experience of browsing the Feedem website to be an enjoyable one and was surprised with the variety of pet supplies that they stock. I was very happy with all three items that we received for review and would not hesitate to use Feedem or buy these brands again. As mentioned, the dog bed could probably do to be a little bit bigger, but the quality, style and ability to machine wash are all fantastic features. The dog collar appears to be robust and looks good aesthetically to ensure Dax is a style icon whilst walking the streets. The dog treat maze is a great concept and Dax enjoys figuring it out, however next time we'd probably look at something a bit more complex as he figured it out pretty quickly.
The DADventurer Star Rating
Danish Design Tivoli Dog Bed – 4.5 out of 5
Red Dingo Dog Collar – 5 out of 5
Nina Ottosson Dog Treat Maze – 4 out of 5
Post shared on the following linky: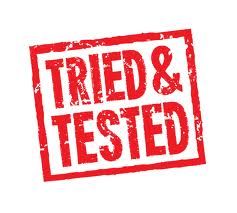 N.B. This review was written by me (Dave) and represents my honest opinion of the products. The dog bed, dog collar and dog treat maze were sent to me by Feedem with the purpose of writing an honest product review in exchange for the product.
[jetpack_subscription_form subscribe_text="Like what you've read? Then join The DADventurer mailing list to ensure that you never miss a post. Just pop in your email address and you'll get all the latest musings directly to your inbox."]